Single "Paseando por Madrid" by Miguel Angel González Aguado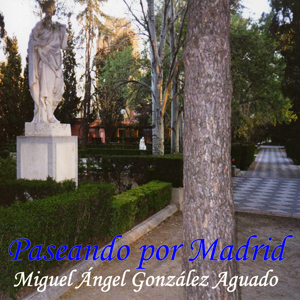 The instrumental single "Paseando por Madrid" is published since the 15th of June 2018. You can listen to it and buy it in the places that appear in this list. "Paseando por Madrid" is a composition by Miguel Angel González Aguado for 1st and 2nd violins, violas, cellos, 1st and 2nd double basses and a guitar. The double basses and cellos have a great role to play and "dialogue" with the most treble instruments, being a very pleasant and encouraging music. He remembers with it his strolls in Madrid, walking slowly towards the future. With this, 3 records by Miguel Angel González Aguado have been published in 2018 and five in total, all instrumental and entirely composed by him.
Instrumentation of the single "Paseando por Madrid"
This instrumental formation in string sextet (1st and 2nd violins, violas, cellos, 1st and 2nd double basses) is present in several compositions by Miguel Angel González Aguado like this one or in "Piensa que lo lograrás". But unlike "Piensa que lo lograrás", this single is not included in his album "Fuerza de Voluntad" or any other of his records, at least at the moment. The duration of "Paseando por Madrid" is 3:54 minutes and its price is 1,29 € although in some stores may be cheaper.
Curiously the guitar has not a great role in "Paseando por Madrid" and only appears at the end. With this Miguel Angel González Aguado wants to pursue the addition of the guitar to classical orchestras and chamber groups as a regular instrument, not only as a soloist that takes part just in certain times.
The front page of the single "Paseando por Madrid"
The front page of this single is taken in a park with two statues in public domain. The Historic Heritage Department of Madrid's Council has given this very interesting information about the history of these beautiful statues and gardens. Miguel Angel González Aguado and this website thanks this very much:
-Statue of the Muse Thalia
(It's the one in the front page of the single) "It's a sculpture of the classic type with garments to the Roman, which represents one of the nine muses. According to orpheus mythology, she was always accompanied by his lira, which was special, because instead of carrying seven strings, it had nine in honor of the muses. The nine muses were Calliope, muse of eloquence, beauty and epic poetry, Clio, muse of history, Erato, muse of love poetry, Euterpe, muse of music, Melpomene, muse of tragedy, Polyhymnia, muse of the sacred chants and poetry, Thalía, muse of comedy and poetry bucolic, Terpsichore, muse of dance and choral poetry and Urania, muse of astronomy, teaching poetry and exact sciences.
This sculpture represents Thalia, muse of the comedy. She used to be represented with a comical mask in her hands and a shepherd stick; crowned with ivy as an immortality symbol. Wearing sandals or sturdy shoes and with a classical tunic.
The statue is a work by Francisco Elías Vallejo, Spanish Queen Isabel II sculptor, and was made to decorate the Royal Theater indoor next to another sculpture that was going to make pairs with it, but it was never built, therefore a few years later was removed from Isabel II square, in those times known as Comedy square or Caños del Peral plaza.
The Royal Theatre was inaugurated on 10th of October 1850, the Queen's birthday. To commemorate this event the Queen Isabel II statue was placed in the middle of the square. It was ordered and paid by Manuel Lopez Santaella and work by José Piquer y Duart. But a year later that statue was removed and placed in the Royal Theatre indoor til 1862 when it was replaced by allegoric sculpture of the Comedy made by Francisco Elías Vallejo. It took the same pedestal which was considered very expensive since it costed thirty four thousand reales (an old Spanish coin). The location of the muse of the Comedy (Thalia) was inconsistency since it was in front of a theatre where comedies never were performed. The Isabel II statue will not be back to the square til the year 1905.
The muse Thalia must be brought to Cecilio Rodriguez gardens in 1929 when they were designed by the gardener Cecilio Rodriguez who was also in charge to restore them after the war, that's why they were called with his name. In 1997 a new pedestal was built on the existing foundation in order to rise the statue and adapt the surrounding parterre".
-Statue of Queen Esther
(The one at the bottom of the single's front page) "Statue known as Queen Esther was in Cecilio Rodríguez gardens. Currently is placed in the Cañete palace garden since the year 2013. This sculpture represents a woman with a veil and dressed in the classical way with tunic and sandals. The statue is leaned on the Hebrew Tik (the cover where the Torá is kept) although in this case had Esther book, used in Purim holiday. The Esther's scroll is the biblical Book of Esther as a rolled parchment which is read in the synagogues during Purim celebrations. It relates how Quuen Esther and her uncle Mordejai saved the Jewish lives in Persia. Purim celebration takes place the days 14 and 15 of Adar month, and celebrates this event.
But other theories state that this statue is a representation of Helen from Troya, wife of Melenao and one of the main protagonist in Troya war.
It's a sculpture by Antonio Capellani, who was sculptue teacher and marble ornaments and worked for Godoy. He was appointed as Scultor of the Royal Aranjuez Place in 1806 when Pedro Bassou del Rey died. The academy chose him as he was the more suitable for that job (but then some test were made and won Andrés Adan). The statue has the author and date it was made MDCCXCI (1791) printed on it".
-Cecilio Rodriguez gardens
(At the east of Retiro Park in Madrid-Spain) "Cecilio Rodríguez: was born in Valladolid (Spain) in 1865. He was the son of a captain of the Spanish army who died during war. He joined the school of orphans of the war and when he was eight was admitted in the apprenticeship section of municipal gardeners, a school established in 1873 by the Council. He continued his studies as an apprentice, working in the Parks and Gardens Service of the city, firstly at Recoletos Avenue (of Madrid).
When he was 12 years old, would go to the stoves and nurseries to end in the Retiro Park, where he became Main Gardener in 1914 and later, director of the Parks and Gardens Department, job where he remained til 1946. Therefore he was the person in charge of Madrid's gardening during a great and complicated period of time with an impasse during the war, when he was relieved of his functions and came back after war.
When last century started, he transformed Recoletos Avenue in one of the city's more important ones, with one section "mixed of French and Spanish" and another "of French style". And he worked in most of Madrid's squares and avenues including the most iconic ones as the slop of Bailen street in front the Armory square.
During his carrer on gardening, he did many interventions in several parks featuring creating Retiro Rose Garden, clearly influenced by J. C. N. Forestier who created the "María Luisa Park" in Seville and signalled Spanish urban gardening history of the first third of the last century to become fashionable the new Sevillian or new Andalusian style of which Cecilio Rodriguez was a loyal follower. The Rose Park was placed in a roundabout removing a greenhouse that the Salamanca marquis had donated to the Council in 1873. When the first World War started in 1914, he traveled to Paris to visit the Bois of Boulogne Rose Garden, created in 1905 by Forestier, to buy more than 12.000 roses that finally arrived to Madrid in the middle of European crisis. In the same dates he will be in charge of the skaters stream located in the same park.
Another of his great works located in Madrid's Retiro Park, was transforming the old zoo, that long time ago was the old Royal Zoo placed in a private area limited for the Crown use. He used the new Sevillian style with some Arabian characteristics using exposed bricks and tiles, arbors, arcs covered by climbing plants, fountains, ponds, flowerbeds, benches, sphinxes. The works started in 1918 and continued til 1932. Currently some of these elements are still preserved, as the entrance bench, but some other pavilions have become the Eugenio Trías City Library.
Following the footsteps of María Luisa Park, in which all the roundabout and square were dedicated to Spanish writters, he installed little public libraries made of bricks. He collaborate with Juan Gras in the gardens of Fuente del Berro Park using the same new Andalusian style. In the Retiro Park made his distinctive mark in many places, as Hernani Avenue, where he placed statues, the roundabout of General Martínez Campos, the México Avenue and Marble Square; but may be he is more remembered for the gardens that have his name (Cecilio Rodriguez gardens the ones on the front cover of the single) with granite pergolas and ponds, which were finished in the 1940's and in 1949 were dedicated to him placing an staute of him made by the sculptor Algueró.
After Spanish Civil War he had a great activity to rebuild many Madrid's parks among them Retiro and the West that had great damages since both were battle fronts, in which he followed the projects of Celedonio Rodrigañez who was his teacher and predecessor in his municipal job. He also took part in the University City rebuild. He died in Madrid on 14th of October 1953 after a long and painful illness. His first foreman Ramón Ortiz replaced him. He received many award as the Great Cross of Agricultural Merit from Agriculture Ministry, 1907 Industry Expo Golden Medal due the variety of flowers and plants featured, and the Madrid's City among others".
(So far the information given by The Historic Heritage Department of Madrid's Council).
More information about Miguel Angel González Aguado
Miguel Ángel González Aguado is a composer, guitarist and teacher. As a composer, the instrumental music is his specialty. His records are instrumental and completely composed by him. At present time he has five records published: the albums "Canción de Invierno", "Composiciones Secretas" and "Fuerza de Voluntad", the single "Piensa que lo lograrás" and this single "Paseando por Madrid". He is also the author of many more works.
As a guitarist, he began very young to give concerts throughout Spain. On this website you can learn about his 30-year concerts history. When he was twelve years old he obtained his first Conservatory title: the "Elemental Degree of Guitar". Currently he's got the "Teacher Superior Degree specialty in guitar" and the "Certificate of Pedagogical Aptitude" more information. He also works in teaching giving guitar lessons.