Book "La Cascada, lección de música para los niños" by Miguel Angel González Aguado
This book is a method to teach music to small children from 5 to 8 years old in a fun way. It's got a story in Spanish, music and drawins.
Miguel Angel González Aguado is the author of the entire book: the music, the story and the drawings.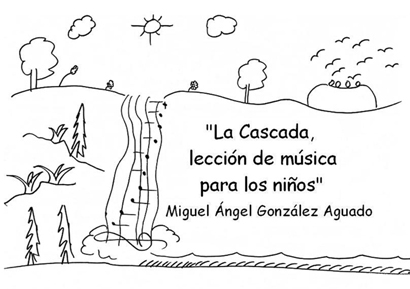 With this book children may start to play musical instruments like guitar, violin, recorder, the notes of the right hand of the piano, and it's also good for music class. The story and the drawings make lessons more understandable likewise the music imitates that part of the story in which is located.
This book was very successful. In 2013 was the second publication of this book, the first was in 1993 in Spain and was sold in the stores.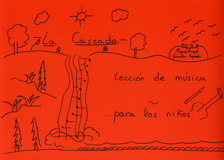 In the actual time, you can buy a physical unit of this book at 5,81 € (or 7.20 $ or 4.73 GB pounds) in digital stores of several countries:
-United Kingdom: Amazon United Kingdom
-Australia: Amazon Australia
-India: Amazon India
-Germany: Amazon Germany
-Japan: Amazon Japan
-Spain: Amazon Spain
-Mexico: Amazon Mexico
-Brasil: Amazon Brasil
-France: Amazon France
-Italy: Amazon Italy
How to use this book in the classroom: teacher's guide.
This book is a music method to teach the notes to 5 to 8 years old children in a fun way. It can be useful to initiate students in several instruments like the guitar, recorder, violin and piano, because it refers to the notes in G cleft. It would be great to make in class a little band with different instruments playing all at the same time.
The best thing is that one teacher explains in the classroom the book "La Cascada, lección de música para los niños" to the students, it could be in private lessons or in a school classroom. The first day of class the teacher could read the story for them and play the music with a guitar, recorder, violin or piano like a little concert, so children would know the book they are going to learn. That would take 20 minutes although, once the concert is over, children could talk and debate about the story and for example how it ends. In fact there aren't goods or bads in the tale. The main character learns something new, develops a new attitude to music and grows as a person.
Likewise, when students know the book, they could play the music and even some of them the story and its characters in front of their parents.
More recommendations:
In this website there is also information about the places where you can buy the records and other books and scores by Miguel Angel González Aguado.