"Fantasía Nostálgica" by Miguel Angel González Aguado
"Fantasía Nostálgica" is a composition by Miguel Angel González Aguado for one classical guitar, one electric guitar and a double bass included in his second record Composiciones Secretas.
There is something curious in "Fantasía Nostálgica", "Vals de las Áconas", "Miedo al Fracaso" and "El Secreto del Tiempo" of the album "Composiciones Secretas": they are recorded in a way that the classical and electric guitars sometimes sound only in one speaker, or each one in each, or in both and this is more noticeable if you use headphones instead of speakers because you hear one guitar in each ear, or in the middle of your head or they even "move" from one side to the other! In "Fantasía Nostálgica" you hear the classical guitar in one speaker, the electric in the other speaker and the double bass in both. In this website you can see the list of Digital Stores where you can buy his records. Most of the times you can listen to some parts like a sample in these stores. All his records are instrumental and completely composed by him.
Where to buy the scores.
You can buy in Google Play the scores of "Fantasía Nostálgica" in digital format at 1.04 € (or 1.32 $ or 0.81 GB pounds) from many countries of the World like for example: Spain, United States, United Kingdom, Germany, Mexico, Argentina, France, Italy, Japan, Canada, Portugal, Russia, Brazil and many more. The scores are in solfa.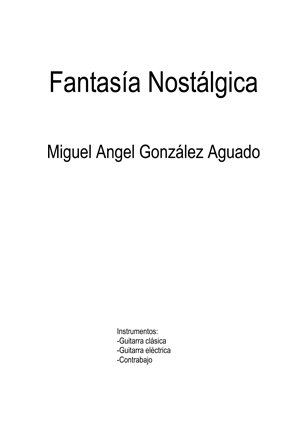 More recommendations:
In this website you can find information about the places where you can buy the other books and scores, and the records by Miguel Angel González Aguado. You can also see his academic qualification from Conservatoire and University, the information of the guitar lessons that he offers and his history of concerts of more than 30 years long.