History of the Concerts of Miguel Angel González Aguado.
Since he was a child, Miguel Angel González Aguado has done concerts in all Spain.
The places where he gives his concerts are of many kinds: City Theaters, Schools and Colleges, Churches, Main Squares, Radio and Television, offering different types of concerts that have varied with the time. The History of the concerts of Miguel Angel González Aguado could be able to be summed up in 3 periods of time.
-The 80's:
Although he played in a concert in his own school in the 70's, we are going to relate his "official" concerts that are the ones that he did since the 80's.
In the decade of the 80's, when Miguel Angel González Aguado was child and young, he played concerts in the following Spanish towns and cities: (they are grouped in this list depending on the provinces or Spanish territories)
Comunidad de Madrid: Algete, Fuente el Saz and Madrid city.
Province of Segovia: Ayllón
Province of Cuenca: Belmonte and Las Pedroñeras
Province of Granada: Pinos Puente
Asturias: Langreo
Province of Cáceres: Navalmoral de la Mata
Province of Pontevedra: Cangas, Lalín, Cambados, Moaña, Redondela and Porriño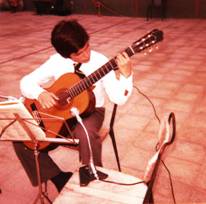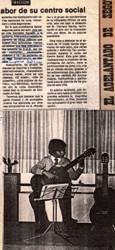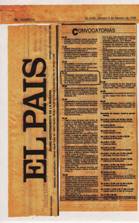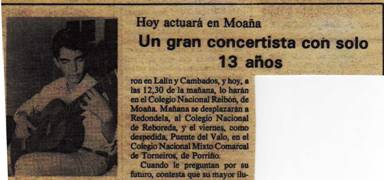 -The 90's:
In this decade Miguel Angel Gonzalez Aguado concentrated in the Comunidad de Madrid (the region of Madrid) and played in most of the towns and cities of that Spanish territory such as: Tres Cantos, Torrejón de Ardoz, Soto del Real, Buitrago de Lozoya, Torrelaguna, Fuente el Saz, Algete, Collado Villalba, Pozuelo de Alarcón, El Vellón, El Berrueco, Navalcarnero, Galapagar, El Espartal, Patones, Cercedilla, El Álamo, Pelayos de la Presa, Las Rozas and many others.
Miguel Angel Gonzalez Aguado did also concerts in Madrid city (such as City of Valencia School or Mara University School) and also played in Onda Cero Radio, Onda Verde Radio and Tele Madrid. He did also concerts in several towns and cities of Toledo province (like Añover del Tajo), Guadalajara province (like Uceda) and Guadalajara city.
In this decade Miguel Angel González Aguado played several concerts in Switzerland (for example in Wintertur and Rapperswil)
-Since year 2000 to the actual time: 21st century.
This century started with the publication of his first CD Canción de Invierno. Miguel Angel González Aguado was interviewed by Spanish newspapers, magazines, radios and televisions. He wants to thank all of them the support that they gave him.
Miguel Angel González Aguado is the author of the 15 pieces of the album Canción de Invierno it's an instrumental album: 13 pieces are for classical guitar, one for Indian Sitar ("La Senda de los Elefantes") and another piece, (Tormenta) for electric and classical guitars that at the end are played at the same time each one with one hand which looks spectacular in his concerts.
In most interviews in these radios or televisions, he played live some parts of this record and in a few media the entire album, since he was interviewed several times. The cities where he had more interviews are Madrid, Toledo, Valencia, Alicante, Murcia, Segovia, Ávila, Salamanca and Pontevedra.
Besides this, Miguel Angel González Aguado gave concerts (since the year 2000) in the following places of the Autonomous Community of Madrid: Alcobendas, Torres de la Alameda, Leganés, Valdemoro, Getafe, Pozuelo, Torrelaguna, El Molar, El Álamo, Ciempozuelos, Morata de Tajuña, Rascafría and Madrid city. Also in this period he played in: Ajofrín (Toledo), Oliás del Rey (Toledo), Azuqueca de Henares (Guadalajara), Alcantarilla (Murcia), Villena (Alicante), Toledo city and Sevilla city.
More information.
In december 2013 his second album Composiciones Secretas was published. And in 2018: the single Piensa que lo lograrás, the new album Fuerza de Voluntad and another single: Paseando por Madrid were published.
His new album Confía en Mí is already published!! and available on these digital platforms with his other records. The frontpage is a portrait of a very close Jesus of Nazareth who comes to help everyone who accepts him in the heart. God feels for all of us a great love and never abandons us as is sometimes thought.
The single Te va a ayudar was published on May 23. It's the single from this new album and the track no 6 of the album. It's also dedicated to Jesus of Nazareth.
All his records are instrumental and entirely composed by Miguel Angel González Aguado. You can see in this website the list of Digital Stores where you can buy his records in MP3. Most of the times you can listen to some parts like a sample in these stores. One of his concert proposals is called "Concert Selection of works by Miguel Angel González Aguado" in which he plays his own music. As a sample of this type of concert you can listen to this playlist on Spotify or this other list on Deezer, both with 26 of his composiciones which will be great for a concert since they are only for one guitar. He also offers other types of concerts, these are all his propasals.
E-mail:
Phone and Skype:
Phone and WhatsApp: +34658910099
Skype: canciondeinvierno
Social networks and more contact data.