Piano, music, mandolin and indian sitar
First of all remind that due the general security measures established in Spain to avoid the spread of the coronavirus, lessons are available in ONLINE format. You can take lessons from your computer at home by Skype, Zoom or similar videocall. This is working well and currently it's the safest and most responsible way.
1. Piano:
Both, classical and modern for students of all ages: for example the smallest children can learn in a fun way with the book La Cascada, lección de música para los niños. Miguel Angel González Aguado is the author of this book and many more works among them Variámonas, opus 1 for violin and piano (included in one of his instrumental records: Fuerza de Voluntad). Lessons are adaptable to the students but taking in considerantion the need to learn the bassic knowledge to start playing.
News
A second hand vertical piano is on sale in the instrument market in this web, where his students can sell their musical instruments.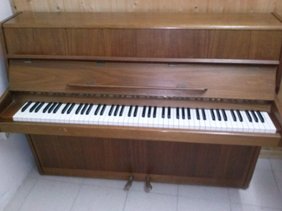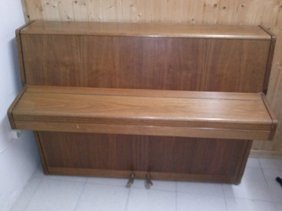 2. Music theory, solfa, singing and harmony:
In these lessons, you can learn the basis of Theory of Music (like chords, scales, notes, melodies, tonality, etc.) that some people memorize in a mechanized way when they start learning to play an instrument and don't know the reason of their characteristics or the origin of the musical language.
Many students when they join guitar lessons, they also want to improve their voice or find their singing style when they play. With these lessons you can learn to intone a song, know your own voice and what music you can sing; meanwhile you play the guitar.
3. Indian Sitar:
Miguel Angel González Aguado also offers Indian Sitar lessons. He is the author of the composition "La Senda de los Elefantes" for Indian Sitar. You can find it in one of his instrumental records: Canción de Invierno. Sitar lessons may be given with the Swaras system or Western notes.
4. Mandolin:
Miguel Angel González Aguado also offers other string instruments lessons like mandolin or ukulele. They are great fun and easy to play. You can learn them while you learn guitar or bass.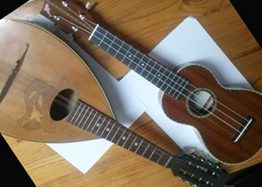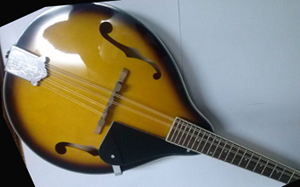 Prices of the lessons:
The price of an online lesson of piano, sitar or mandolin is 14 € and one online lesson of music theory, solfa, singing or harmony 17 €. If you take two lessons per week these prices drop to 12,5 € and 14 € respectively. The first lesson is a trial therefore is a free lesson.
Contact data:
Phone number (Spain): +34 658 91 00 99 (English is spoken)
More recommendations.
All these lessons are given in English. If you prefer you can take the lessons in Spanish and practice this language at the same time. You may also be interested on the guitar and bass online lessons that he also offers, including the Spanish lessons also online.